解説テキストは編集中です。しばらくは画像資料をご覧ください。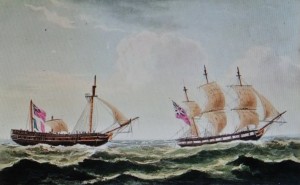 Capt. John Cochet is listed as paying the rates for 20 the Vineyards between 1810 and 1825 . In 1820 he is listed as a as Rear Admiral. Detective work on Google and at the National Maratime Museum led to an interesting discovery: John Cochet was present at many engagements with the French and the Americans and served on some 14 different sailing ships between 1775 and 1815. Here is an extract from his biography:
"Some time previous to the commencement of the war with revolutionary France, John Cochet became first Lieutenant of the Phaeton, a fine frigate, in which, under the command of his friend Sir A. S. Douglas, he was present at the capture of many of the enemy's vessels, and among others of the General Dumourier French privateer; her prize, the St Jago, a Spanish galleon of immense value and la Prompte of 28 guns. In one year they captured 5 enemy vessels. Below is an extract of one of the captures."
Captain Sir A. S. Douglas, in lat. 41″ 43′ N. long. 25° W. gave chace to two sail in the N. W. The latter officer soon came up with the St. Jago, a large Spanish galleon under French colours, dropped a boat on board of her as he passed, leaving her to be taken possession of by the Ganges, and stood on in pursuit of the headmost, which he took two hours afterwards. She proved to be the General Dumourier, a French privateer coppered, mounting 22 six-pounders, with a complement of 196 men, having on board 680 cases, each containing 3000 dollars, as well as valuable packages valued between two and three hundred thousand pounds sterling. The St. Jago was from Lima, bound to Spain, and had been eleven days in the enemy's possession.
The value of the cargo in 1794 was £1.3million in sterling (about £100 million in todays value). All who took part in the action would have received prize money. In the spring of the ensuing year, he followed Sir Andrew into the Queen-Charlotte, bearing the flag of Earl Howe; and was one of the Lieutenants of that ship in the memorable battle of the 1st of June 1796.